DNHPDCL: 1. Customer Care Numbers | 2. Online Complaint and Services

Dadra and Nagar Haveli Power Distribution Corporation Limited (DNHPDCL) is owned by the government of India. It is currently engaged in the electricity distribution services in the Union Territory of Dadra and Nagar Haveli on the western coast of India.
Notice - Be alert! Don't disclose the financial or banking details and

don't share OTP

with any customer care executive. Protect yourself from

Frauds and Scams

. Report to

Cyber Crime Bureau

or Call 1930 as soon as possible to protect your earnings and others.
This UT is spread in different locations, and every zone is separated or far from another. It is surrounded by the border of Gujarat. Many customers get electricity services from DNHPDCL. Most industries and household users are consumer of electricity in this zone.
Due to some disputed and issues sometimes many rural and urban residents face electricity power off, Outage of electricity supply, and many other streetlight-related issues.
If you are using the services of DNHPDCL and facing electricity bill, supply, transformer, or any other related issues, can lodge your electricity complaint with the help of Complaint Hub.
We have provided the electricity helpline numbers, that are toll-free for consumers to contact customer care of DNHPDCL in Dadra and Nagar Haveli. You can get these numbers from the below tables and can click on these numbers to direct call them.
You can visit the DNHPCL portal from the links that are available below. On these links, you can register an online complaint about the disruption of electricity services or other supply-related grievances. Fill out the form on the portal and submit it for further process.
You will get a reference number, note it down, take a screenshot, or save it as you can lodge further complaints against it if your grievance is not solved. If you will not satisfy with the solution of the helpline number (not solved), You may visit the Joint Electricity Regulatory Commission of Union Territories to register a complaint on the grievance redressal forum (GRF).
Electricity Sub Stations of DNHPDCL Dadra and Nagar Haveli:
Complaint Hub always tries to build trust in customers and service providers. All the data is verified with the team of Complaint Hub from the official helpline portals. You can lodge your complaint.
How to Register Online Complaint, Apply for New Electricity Connection, and Use Other Services of Dadra and Nagar Haveli Power Distribution Corporation Limited (DNHPDCL)
The procedure and steps to lodge an online complaint, to fill out the online application form for a new electricity connection or any other services of DNHPDCL are mentioned here.
Procedure to Loge complaints to DNHPDCL:
1st Procedure: Register Complaints of issues related to electricity services on the customer care helpline numbers of DNHPDCL. Follow the steps:
Visit below and click on the customer care helpline numbers (Highlighted in red colour)
Call directly on these numbers and tell them about the issues to the customer care representative
Get the complaint number on the mobile number in the message and use it to track your complaint
2nd Procedure: Lodge an online electricity complaint on the portal of DNHPDCL. Follow the process:
Click the link to lodge the online complaint form below in the table (Highlighted in Red)
Select the type of complaint – Supply, bill, meter, or any other mentioned options
Fill out the complaint form with the required details and attach the supporting documents.
Click on the submit button and note down the complaint reference number or you will get in the message of your mobile number
The Procedure to Apply for DNPDCL New Electricity Connection
Follow the following steps to fill out the online application form for the new electricity connection of DNHPDCL:
Step 1: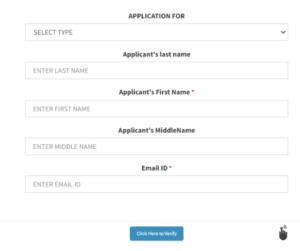 Click on the link to the new electricity connection from the below list
Fill in the following details in the application form:

Select the type of application – Choose New Power for New Connection
Enter the name and other details with email id.
Click on the verify button
Step 2:
Open your email, that you have provided, check the recent mail by DNHPDCL
Click on the link, fill out the form with the following details:
Categories and Demand details

Select Tariff – Type of Connection – Domestic/Commercial/Industry
Select the purpose of your connection
Enter the load, as per your requirement (for Domestic, between 1KW to 10 KW)

Enter the Personal Details
Fill in the address details at which supply is required
Enter the Permanent Address (If different)
Provide Office Address (Optional) – Not applicable then choose – None
Select the NOC (No objection certificate) (Not available then choose – N/A)
Select one/two ID Proof ( Required document proofs)

Passport, Pan Card, Driving Licence, Pension Payment Order, Election Id
Arms Licence, Photo Debit Card, bar Council Id/Aadhar, Identity Card, Freedom Fighter Pass

Choose one proof of ownership of your property

Sale Deed/Lease Deed
Registered Will
Residence Certificate
Heir Certificate
Partition Deed
Succession Certificate
Certificate issued by Tehsildar & Patwari

Select a proof of Occupancy ( If not available, select – N/A)
Provide the information on Wiring Certificate
 Answer some questions in yes/no in the form
Read carefully the declaration/undertaking details
Upload the following documents:

Passport Size (JPEG/JPG/PNG file format)
Signature ( same format)

In the last step click on the submit button and print out the application form
Note down the application reference number to track your request status
---
Electricity Complaint Redressal Time: Immediate (24×7) or May take 7 to 60 days (Depends on the Issue)
Complaint Registration Fee: Nil (Zero or No Charges) ( Be Aware and Always Alert)
---
DNHPDCL (Dadra and Nagar Haveli) Electricity Customer Care Helpline Numbers to Lodge Complaints
Call DNHPDCL (Dadra and Nagar Haveli Discom) Electricity toll-free Customer care Helpline Numbers to lodge your complaints and issues:
DNHPDCL Customer Care Numbers:
Trusted Source – 1. DNHPDCL
Lodge Online Complaints, Electricity Services, Apply for New Connection of DNHPDCL on the Official Portal
Links to register or get online services of DNHPDCL, apply for a new electricity connection, lodge an online complaint, or use other services as per your requirement.
Trusted Source
Trusted Source – 1. DNHPDCL | 2. Urja Mitra | 3. JERC | 4. CERC
---
DNHPDCL (Dadra and Nagar Haveli Discom) Electricity Complaints Types:
Complaint about electricity Issues of:
Issues of DNHPDCL Electricity Bill or New Connection:
Bill payment, amount error, bill amount paid but no updates, other bill related complaints
Applied for the new connection under Saubhagya Scheme but not sanctioned, New meter is not allotted, new connection wire related complaints
Issues related to Electricity Transformer and Domestic, Smart meters
Sudden voltage change, Emergency issues of fires in transformer, power supply issue in Transformer, and other complaints
Meter is not in work, Smart meter reading issue, terminals of the meter defect, broken wire in meter, display or glass are broken
Any other smart, domestic, or industrial meter related complaints
DNHPDCL Dadra and Nagar Haveli Electricity Power Supply and Emergency Complaints:
Frequent unintentional power supply outage, high or low voltage issues, any other supply disruption complaints
Emergency Complaints – Accident due to falling of electricity wire on any person, sparking on the wire or transformer, failure of power in your whole area, streetlight power supply outage issue
Complaint about corruption/bribery in your area by electricity department employee or person who is directly or indirectly related to DNHPDCL
Any suggestion related to the improvement of electricity poles or wiring infrastructure in your circle