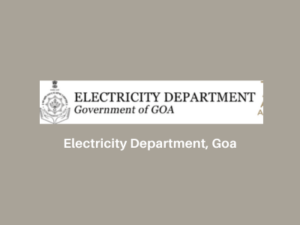 Electricity Department, Goa is owned by the state government of Goa and is a public sector company in the category of electricity distribution services. Its service area is spread in western ghats areas of Goa and the coastal region where it provides electricity supply in rural, western ghats hills, towns, and cities/districts of Goa.
Almost all households are customers of EDGOA. Many of them face issues like uncertain daily power supply outages, transformer blasts, streetlight outages, broken live wires, erroneous bill amounts, payment issues, or other issues related to electricity services.
Notice - Be alert! Don't share the financial or banking details and

don't share OTP

to customer care executive. Protect yourself from

Frauds and Scams

. Report to

Cyber Crime Bureau

or Call 1930 as soon as possible to protect your earnings and others.
If you belong to the below lists sub-divisions of electricity services and want to lodge a complaint to the nearest center. We will help you to raise your concern.
Electricity Services Sub-divisions of the Electricity Department in Goa:
Complaint Hub is always ready for you to protect your right and tell you where to raise your complaints. Please use the below-listed information of toll-free customer care helpline numbers in the table and register your complaint to the concerned authority, so you get a faster resolution of your grievances.
Also, the below information in the table that is list links to concerned portals to lodge online grievances and track the redressal of issues. Our suggestion is that don't hesitate to call or message to register your concerns to the department. The right solution in the limited time is your right. We encourage you to register your complaint about EDGOA-related services.
---
Electricity Complaint Redressal Time: Immediate (24×7) or May take 6 to 60 days (Depends on the Issue)
---
Helpline Information of Goa Electricity Board to Register Electricity Complaints
Toll-Free electricity customer care Helpline Numbers of Goa Electricity Board to register complaints about electricity services:
Links to the Goa Electricity Department portal to lodge online complaint about the supply and services of electricity
---
Complaints Categories of Electricity Department, Goa :
Complaint about electricity Issues of:
GOA DISCOM New Connection Issues:
Complaint about the non-sanction of the new connection, reduction/enhancement of loads, or meter related issue
Issue of pole installation, wire or document submission
Saubhagya Scheme related issue while applying for connection
GOA DISCOM Electricity Supply Related Complaints:
High or Low Voltage issues or Faults in LT, 11KV, and 33KV supply lines
Transformer blast or defect and issues related to street lights in your local areas
Report to GOA DISCOM about Electricity Theft in Rural or Urban Areas:
Local or regional electricity theft reports
Cash or any incentive related schemes issued in your division
GOA DISCOM Domestic or Industrial Meter Defect Related Issues:
Want to replace the defective meter or accuracy error in the calculation of the unit's readings
Upgrade or degrade the meter on the basis of load enhancement
Want to apply for a new meter or for a smart meter
GOA DISCOM electricity Bill Related Issues:
Fictitious arrear (overbilling or underbilling) issue, Bill is not received on time, or wrong electricity bill is invoiced.
Bill payment is paid but not updated yet or not revised
GOA DISCOM Electricity Transformer Related Complaints:
Overloading of Transformer power, Any phase defected due to some reason, or Wire sparking issue
Damaged transformer or electricity sparking (burning) in transformer
GOA DISCOM Smart Meter Related Issues:
No power supply connection at your home from meter wires, loose wire terminals in meter, or meter display issue
Sparking in meter, fault in new or working meter, Power off/on button related issue, or properly not installed on location
If you want to relocate the meter (require Goa electricity Discom approval)
Any other issue that is occurring with your meter
GOA DISCOM Electricity Supply Related Information/Suggestions
Supply of high or low voltage at your area or home, infra, or system required improvement at your location
You can lodge a complaint about corruption/bribery against the person of the department or contractual person
Inform about the emergency issue like electricity sparking accident with any person, the possibility of happening any accident due to wiring or any other reason in your area.
Requests related to increasing transformer capacity or want to complain about OTS services
Any other complaints or grievances that are not mentioned but want to lodge to the Electricity Department of Goa.
---
Resource: