Airbnb, Inc is an online marketplace for booking holiday homes, short-term rental apartments, and homestay experiences. Millions of people are connected on Airbnb as a customer and community to host and access hospitality services. Most travellers prefer this platform to book short-term homestays for the purpose of exploring & travelling the tourism places.
The community-based hosts and listing of properties have made it easy to access the availability of accommodations. But, due to uncertain reasons, customers have to face a lot of issues with certain services of Airbnb. These issues can be booking, quality of stays/hotels, cancellation, payment/refund, or insurance covers (if sold by Airbnb).
Notice - Be alert! Don't disclose the financial or banking details and

don't share OTP

with any customer care executive. Protect yourself from

Frauds and Scams

. Report to

Cyber Crime Bureau

or Call 1930 as soon as possible to protect your earnings and others.
The category of services of stays that Airbnb offer are Farms, Beachfront, Countryside, Private rooms, Luxe, Tiny homes, Islands, Treehouses, Historical homes, Trulli, Towers, Riads, Domes/Caves, Houseboats, etc. If you have any concerns then certainly file a complaint to the Airbnb Support Team or seek help from Customer Support.
You may also lodge a complaint about the neighbourhood concerns, COVID-19 response, Aircover (if booked), any form of discrimination, or disputes of payments/refunds and cancellation of online booked stays/rentals.
Resolve Disputes and Issues of:
Booking or Cancellation of stays/service
Payment refund, disputes related to deposits, or Airbnb Cover.
Quality of homestays, Food safety, Airbnb travel packages, reservations, or other community-based problems.
Harassment, discrimination, or concerns with the neighbourhood (to investigate enquiry).
Call back for urgent neighbourhood situations.
Other problems of hosts, customers, travellers, communities, owners of the properties, recovery against insured stays under Airbnb Cover, etc.
Do you know how to handle unresolved complaints? Obviously, you can follow the 3-tier system to get redressal of your problem. As you know, in the first stage, directly contact the Airbnb Support team by helpline/customer care number (if provided in your country), e-mail, or lodge an online complaint via Airbnb Support (Chat).
In the second stage, the grievance/compliance officers are appointed by Airbnb but it may vary based on the laws of the countries. So, If not satisfied with stage 1, escalate the grievance or disputed case to the Grievance Officer, Airbnb.
Not satisfied with the final decision/settlement of stage 2? Finally, in stage 3, file this consumer dispute (case) to the apex consumer protection body of your nation, the National Consumer Protection Form.
Let us find out all the aspects and a well-established consumer disputes redressal mechanism for disputes regarding the products and services of Airbnb.
---
How to File a Complaint against Airbnb?
Airbnb has an online network of the largest community-based homestays & holiday rental apartments hosts and travellers & customers. Due to this vast diversity of services, a lot of customers and business hosts (listed property owners) face issues with Airbnb services. Every customer wants to get redressal of these problems.
Complaint Registration Fee & Redressal Time:
| | |
| --- | --- |
| Registration Fee | No Charges (₹0) |
| Redressal Time  | Up to 28 days (may vary as per the terms of Airbnb) |
| Cancellation/ Refund | Within 30 business days |
To protect the rights of the customers and listed hosts, Airbnb has an integrated complaint redressal mechanism. This ensures the faster resolution of unfortunate and unknown problems pertaining to online booking & payment/refunds and other community problems.
Do you know a well-defined 3-tier grievance redressal system? This 3-tier system ensures the accountability of Airbnb and also protects from unfair and violative business practices of Airbnb against the defined laws of the concerned nation.
Tier 1: If have any problem with booking, homestays, payment, service charges, or other products & services, directly register a complaint or get help from the Airbnb customer support team. Contact Airbnb Support (Online) or the community support team to represent your concerns. If available in your region, call on the customer care number for certain problems/emergencies.
Tier 2: Have not been satisfied with Airbnb Support? Airbnb has appointed a compliance/ grievance officer for some countries as per the domestic self-regulatory laws & rules of these nations. In this tier, you can escalate the unsatisfactory consumer dispute to these nodal officers.
Tier 3: Dispute has not been settled? Finally, you can approach the National Consumer Protection Forum of your country to lodge a complaint against Airbnb. The matters may include the refund of payment, higher charges, non-payment of cancellation, low-quality service & products, unfair business practices, or issues of owners/hosts of properties/homestays.
Submit the appropriate evidence and relevant documents related to paid services of Airbnb, to the consumer protection authorities so, you can claim the amount as compensation for your loss.
The detailed information is provided below, read carefully instructions to raise your concerns to the official customer support of Airbnb and other higher official authorities of the consumer disputes redressal system.
---
Airbnb: File an online Complaint
Airbnb's Community Support Team and Customer Support are available 24×7 to provide help and also will resolve issues regarding online booking of homestays & rental services. Hosts of stays can also file a complaint to the internal complaint support for the business users.
You may use the self-help (chat support), e-mail, or helpline numbers of your regions (if available). Also, report the concerns related to the neighbourhood of homestays/holiday homes of Airbnb or Airbnb Cover (insurance).

Provide the Following Details:
Confirmation/Booking Number (ID)
Short summary of the disputed issue
A copy of the invoice (if asked)
*Alert – Don't share details of credit cards or any financial instrument with customer support of Airbnb or any person.
File an Online Complaint to Airbnb about Holiday Homes & Homestays and Business Hosts:
Alternatives:
Are you a business host? Surely, you might also have some issues with the guest and services of Airbnb. Seek help or start a claim against damage protection or host liability insurance, and also start a reimbursement request under the AirCover insurance.
Unfair business practices or violation of terms by Airbnb? You may directly report it to the internal complaint authorities of your region (country). Get details from the community support team of Airbnb. While submitting your case, attach relevant documents & evidence. For more details, visit the links below.
Support For Business Hosts & Owners of Listed Properties on Airbnb:
| | |
| --- | --- |
| Start a Claim of Airbnb AirCover for Hosts | Click Here |
| Airbnb Internal Complaint Handling (EU) | Click Here |
| Support for Hosts, Guests & Travel Admins | Get Help |
After submission of your grievance, note down the reference number or ask for the acknowledgement receipt.
If not satisfied with the final redressal, escalate the matter to the Compliance Officer, Airbnb of your country.
---
Grievance Officer
The apex body of Airbnb to redress unsatisfactory complaints is Grievance (Compliance) Officer.  In certain conditions, if you are not satisfied with the final decision or resolution of Airbnb Customer Support, escalate this disputed complaint to the nodal officers or its internal complaint office (for Business Hosts).
This mechanism might vary in different countries under certain domestic laws of the nation. You may ask the Customer Assistant or Airbnb's Community Support Team and know the associated compliance officer of the region.
Provide These Details:
Confirmation Number (booking id)
Reference/ticket number of the previous complaint
Communication Details – Name, Address, Contact Number, etc.
A Brief Description of the issue.
Attach copies of relevant documents or evidence like invoices, Aircover certificates (policy number), etc.
E-mail or Write to Airbnb, Inc at:
Address: Director,
Airbnb Ireland UC, Private Unlimited Company
8 Hanover Quay, Dublin 2, D02 DP23,
Ireland.
E-mail: [email protected]
Web: Airbnb company details
For the United States (USA), Send a written arbitration letter to Airbnb's Agent for service:
Address: CSC Lawyers Incorporating Service, 2710 Gateway Oaks Drive, Suite 150N, Sacramento, California 95833.
Headquarters: 888 Brannan Street, in San Francisco, California.
Read: USA Dispute Resolution and Arbitration Agreement
Web: American Arbitration Association (adr.org)
For India, Airbnb has appointed a Grievance Officer. Indian business hosts and guests/customers can file a complaint to this appointed officer by sending an e-mail or a courier of the written letter at the official address:
Address: Grievance Officer (India),
Airbnb Ireland UC, 8 Hanover Quay, Grand Canal Dock, Dublin 2, Ireland.
E-mail: [email protected]
Web: Airbnb, India
In European Union (EU), file a complaint to the internal complaint handling division of Airbnb for Business Hosts (Users) against the non-compliance of Airbnb with any obligations under EU Platform-to-Business regulations with affects hosts. Also, submit complaints related to technical issues or the behaviour of Airbnb.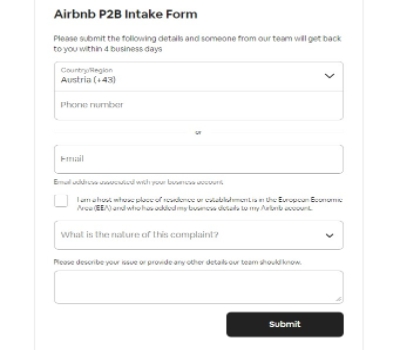 The business hosts should be residents of the European Economic Area (EEA) and the United Kingdom (UK) or have submitted the details of registration from these locations. You may escalate the disputed case within the EU to Airbnb by submitting an online complaint form (P2B intake Form).
Within 4 business days, you will get a response from the appointed officer. Not satisfied with the final decision? Business hosts can access the mediation service against this dispute by contacting International Disputes Resolution Centre, UK at:
Address: Centre for Effective Dispute Resolution
International Dispute Resolution Centre, P2B Panel of Mediators, 70 Fleet Street, London, EC4Y 1EU, United Kingdom.
Web: https://www.cedr.com/p2bmediation/
If guests/customers are not satisfied with the final consumer disputes settlement offered by Airbnb or no action has been taken then file a consumer case to the National Consumer Dispute Authority/Forum of the country.
---
Consumer Protection Forums
The National Consumer Protection Forum is the apex government body of the country to ensures fair business and trade practices, and also protects the rights of consumers. If these are being violated by the companies, approach these appellate authorities.
Have you not been satisfied with the final decisions of Airbnb? Certainly, you should file a petition against the disputed matter for arbitration or settlement. The matters might include booking holiday homes, rental homestays, payment, high charges, Aircover insurance, or other issues related to Airbnb services.
Required Details:
Invoice or payment bill of paid product & service of Airbnb
Copies of relevant documents or proof.
Detail of disputed amount to be settled (compensation).
Other details and information asked the consumer forum/ arbitration authorities.
Submit the written complaint form to the nearest consumer office or sent it by post/courier. You may also file an online petition/case (if available). To know more, select the consumer form of your country from the list below.
List of National Consumer Protection Forums and Arbitration Authorities of Different Countries:
To represent your case strongly, provide the most relevant information and documents against violation of consumer rights or breach of rules of fair business practices by Airbnb. Also, ask for compensation against any form of monetary loss (if applicable).
After successful arbitration, settle with Airbnb as per the rules specified by the consumer or trade protection form of your country.
---
Frequently Asked Questions about Airbnb
Q. What is the customer helpline number of Airbnb?
A. As per our research, Airbnb has not provided any specific customer care number to lodge a complaint about the issues. You can contact the Airbnb Support team via chat or community support to raise concerns related to the booking of hotels, holiday homes, stays, payments, etc. Ask to these customer executives to know the Airbnb helpline number of your region.
Q. Where can I approach if my complaints are not resolved by Airbnb Customer Support?
A. First, initiate a grievance by escalating the unsatisfactory or unresolved complaint to the grievance/compliance officer, Airbnb of your region (get details from Airbnb Support). Yet not satisfied? File the disputed consumer case to the National Consumer Forum of your country for arbitration or settlement based on the claim/compensation you desire from Airbnb.
---
Reference