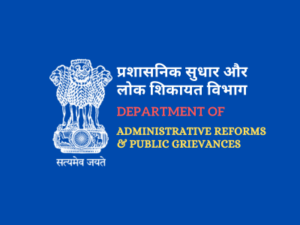 About: Every Citizen can register an online complaint that is available 24/7. You can get redressal of grievances through Centralized Public Grievance Redress and Monitoring System (CPGRAMS) by the central government.
You can complain (lodge a grievance) or raise your issue relating to Ministries/Departments and Organizations under the purview of the Directorate of Public Grievances (DPG), Cabinet Secretariat, and the Government of India.
Notice - Be alert! Don't share the financial or banking details and

don't share OTP

to customer care executive. Protect yourself from

Frauds and Scams

. Report to

Cyber Crime Bureau

or Call 1930 as soon as possible to protect your earnings and others.
What is CPGRAMS?
CPGRAMS is a Centralized Public Grievance Redressal and Monitoring System that comes under the central government of India. It takes the complaints of the departments and Ministries that come under the Government of India.
Any citizen or person can lodge a grievance by visiting the portal of CPGRAMS. Fill out the online complaint form and submit it to get a faster resolution. You can also track your complaint by using the reference number of your grievance.
Use the below official helpline details and online grievance portal of CPGRAMS to lodge an online grievance against the concerned department or ministries of the Central Government.
Official Details of CPGRAMS:
How to Lodge Grievance to CPGRAMS?
CPGRAMS is a portal and you can follow the procedure that is given below in simple steps. Read carefully all the information related to the procedure and process for the successful submission of the grievance.
Complaints/issues which are
not

taken up

for redress of grievances:
Related to cases or any matter concerning judgment given by any court.

Related to Personal and family disputes.

Related to matters under RTI.

Anything that impacts upon the territorial integrity of the country (India) or friendly relations with other countries.

Suggestions.
Procedure to Lodge a Successful Grievance to CPGRAMS
You can follow these steps to lodge a successful grievance to CPGRAMS without facing any issue of rejection. Please read carefully all the instructions to decrease the mistakes while filling out the complaint form.
Step 1: Visit this link to open the online complaint form: Register Complaint
Login (If already Account) – Click here
Step 2:  Click on the lodge public grievance link from the left side after successful registration and login.

Step 3: Click on the below box and agree to the terms & conditions of the above-given instructions. Now, click on the submit button.
Step 4: Select a ministry/department/state government against which you want to lodge a grievance.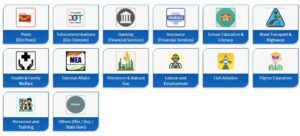 List of departments/ministries of central government:
Posts – Department of Posts
Telecommunications – Department of Telecom
Banking – Finance Services
Insurance – Finance Services
School Education & Literacy
Road Transport & Highway
Health & Family Welfare
External Affairs
Petroleum & Natural Gas
Labour & Employment
Civil Aviation
Higher Education
Personnel & Training
Others (Min/Dep/State Govt)
Step 5: Now, select the department & choose the category & subcategory of your complaint. Provide a brief detail of your issue or enter if you have any reference number for your services. Mention the type of relief or compensation, if required.
Step 6: Upload the supportive documents to prove that your complaint is genuine. Provide other details (If ay required). Finally, submit the complaint form & note down the reference number of your grievance to track the status on the CPGRAMS portal.
Visit: Track your Complaint
Redressal Time: 15 to 45 working days (average) after receiving the complaint/grievance. You can expect a response within the given time. If you don't get any response or are unsatisfied with the resolution of the CPGRAMS, you can file a grievance to the Directorate of Public Grievance (DPG). Details & links of DPG are provided in the below section
Before submitting your complaint, please check the following details that can be mandatory:
Details of grievances with supporting documents.

Provide earlier attempts for redressal of grievances.

Include if you have appealed against any previous decision of the organization or department before any court, tribunal, or consumer forum.

Provide details of identity and postal address, e-mail address, and telephone/mobile number.
The Process for Redressal of Your Complaint/Grievances
DPG (Directorate of Public Grievance) will check the category/aspects of the complaint within of purview and the gravity of the complaint.
Based on this, it will get information/comments from the concerned department or organization or transfer the grievance to it requesting to directly deal with the matter.
After completing the process the letter/message will be sent to you with details of action taken against your complaint.
If you have not got satisfactory redressal of your grievance within the given time period you can seek help from DPG to resolve it.
Complete Redressal Flow of your Grievance:
If not, you are satisfied with the redress of grievance Lodge complaint/grievance to DPG (link to DPG) now.
You can submit complaints related to the Following Departments and Ministries of the Central Government:
Complaints Related to:
Posts/Post Office Services – Department of Postal Service
Telecommunications – Department of Telecommunication
Banking (Financial Services) – Department of Financial Services (Banking)
Insurance (Financial Services) – Department of Financial Services (Insurance)
School Education & Literacy – Department of School Education & Literacy
Road Transport & Highways – Ministry of Road Transport and Highways
Health & Family Welfare – Department of Health and Family Welfare
External Affairs – Ministry of External Affairs
Petroleum & Natural Gas – Ministry of Petroleum and Natural Gas
Labour and Employment – Ministry of Labour and Employment
Civil Aviation – Ministry of Civil Aviation
Income Tax – Department of Income Tax
Higher education and entrance exams – Department of Higher Education
Personnel and Training – Department of Personnel and Training
Any others (Min/Dep/State Govt) that come under the Government of India
To get more details and direct complaints on concerned departments, please visit these pages. Each page contains the type of complaints that you can lodge in the concerned department with an easy and simple process.
If your complaint or grievance has been redressed by the concerned departments, please share your experience with our services and guidelines provided on this website for further future improvement.
Don't forget to rate this page and provide a review of your level of satisfaction with this grievance redressal service of the government.
Frequently Asked Questions (FAQ) about the CPGRAMS Services?
Q. How many days does CPGRAMS take to resolve the complaint?
A. CPGRAMS takes a maximum of 45 days to resolve your complaint.
Q. Where can I approach if the issue is not resolved within the given time by CPGRAMS?
A. You can approach to Directorate of Public Grievance to lodge a grievance against CPGRAMS if your issue is not resolved within 45 days of receiving the complaint or not satisfied with the final decision of the CPGRAMS.
Q. What are the documents and information required to lodge a complaint to CPGRAMS?
A. Required documents to lodge a successful complaint to CPGRAMS: 1. Personal Details (Name, address, contact detail), 2. Supportive documents of issue or problem, 3. Genuine documents of the concerned department (If available).
Q. What is the reason for the rejection of the grievance by CPGRAMS?
A. Reasons for the rejection of complaints by CPGRAMS: 1. The complaint is pending or a final decision is given by any court/tribunal, 2.  The complaint is already pending in the CPGRAMS department, 3. Personal or Family Disputes, 3. Issues related to RTI. Please provide genuine information so, you can get a faster resolution of your complaint.