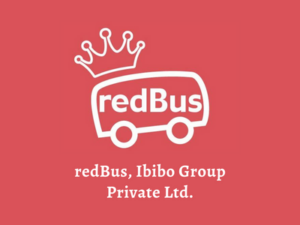 Redbus is an online bus ticket booking platform where customers can book buses globally. It is a subsidiary of MakeMyTrip Limited. The global presence of Redbus is across Indonesia, Columbia, Singapore, Malaysia, and Peru. Along with this, it is one of the largest online bus ticketing networks in India.
Have any complaints regarding Redbus? Yes! Certainly, you must contact the customer support team of Redbus or an authorized agent to get redressal of the occurred issues. The issues might be pertaining to cancellation of online booking, payment/refund, travel insurance, failures of transactions, or other disputed matters.
Notice - Be alert! Don't disclose the financial or banking details and

don't share OTP

with any customer care executive. Protect yourself from

Frauds and Scams

. Report to

Cyber Crime Bureau

or Call 1930 as soon as possible to protect your earnings and others.
All the problems and grievances will be resolved by the dedicated Rebus customer helpline numbers or online support assistants (available 24×7). You can file a complaint using the integrated complaint registration and redressal mechanism which consists of 2 levels.
Want to initiate a complaint? Why not! call the toll-free customer care number or Redbus helpline number of your region, e-mail your concern, or file an online complaint to the support team (live chat). Don't forget to mention the booking Id (if have one).
Not satisfied with redressal? Don't worry! Escalate this unsatisfactory grievance to the designated Grievance Officer, Redbus within 30 days (if no action has been taken in the last 30 days).
Issues Can Be Resolved:
Booking: bus ticket booking, cancellation, non-availability of seats, issues with bus operator after booking an online ticket, booking of bus/trains/ taxis/cabs or hotels (if available), or other complaints regarding booking (online or offline mode).
Payment: Issues related to higher service charges, declined payment, reserved seats, deposit/refund, insurance claims against travel accidents or luggage, and other problems of payment or charges of travel products & services offered by Redbus.
Travel: Concerns related to the booked bus, facilities, delayed bus, refund against delayed bus from the destination, disputes with bus operator, or lack of facilities in the bus (not as per the standards described by RedBus).
Products: Any travel products or services of Redbus for the customers like travel insurance, luggage charges, pilgrimage package, special packages, food & fun deals, hotel bookings, premium travel packages, booking of a bus, etc.
Others: Complaints pertaining to the services, offers/coupons/discounts, and travel products offered by Redbus but not listed above.
Are you not satisfied with the decision of the grievance officer? Finally, you may file a petition or escalate the disputed consumer matter to the National Consumer Authorities of your country with relevant documents like invoices, booking details, images/videos of the product/service, or other evidence to get compensation against monetary loss or paid services of Redbus.
---
How to File a Complaint to Redbus?
Do you want to know the right procedure to raise an issue with Redbus? Sure! Redbus has an integrated and fast customer support service to redress the issues pertaining to services and travel products offered by it. For this, a 2 tier mechanism is available where you can initiate a complaint.
Complaint Registration Fee and Redressal Time Limit:

Registration Fee

No Charges (₹0)

Redressal Time Limit

Up to 30 days (read terms of service of RedBus)
In tier 1, register a complaint to the customer support team. To initiate a resolution, you can call the helpline number or RedBus toll-free customer care number to seek help or raise a complaint to the customer care agent.
Also, send an e-mail or chat with the customer support assistant (live chat) to lodge an online complaint. Don't forget to mention information related to booking a bus or specific services that you have purchased. Lastly, take a reference/token number to track the status.
Have you been not satisfied with the final resolution? Obviously, this can happen. In this condition, escalate the disputed complaint to the Grievance Officer, RedBus in tier 2. you may contact the authorized person by sending an e-mail or raising an online grievance. If you desire, write a grievance letter with appropriate details.
Note – Not resolved or dissatisfied with the final decision? In this uncertain situation, you should approach the National Consumer Authority (Trade Protection Forum) of your country to file a petition. The Indian consumers may lodge a complaint to the National Consumer Helpline, the Ministry of Consumer Affairs or the Consumer Disputes Redressal Commission (E-DAAKHIL).
---
RedBus Customer Care Number
Do you want to call the customer support service of Redbus? Definitely, contact the customer support team by calling on the customer care number or helpline number of RedBus within your nation. You may also contact the bus operator, local travel agent, or branch offices of your region to raise concerns regarding the booking or cancellation of a bus/train or cab/taxi.
Provide the Following Information:
Booking Id (Confirmation Number) of RedBus
Nature of complaint
A short summary of a disputed matter or issue
Other details or information (if asked by customer support)
Redbus Customer Care Numbers to File a Complaint:
Successfully registered complaint? Now, ask for the reference/token number of the submitted concern to track the status and escalate the matter (if not resolved). You may also contact the regional office of the RedBus, the travel agent, or the respective bus operator regarding the facilities and queries for the availability of seats or fares.
Alright, now you know the contact details of customer care and obviously, you have filed the complaint. But, have your complaint been resolved? If not, escalate it to the Grievance Officer as mentioned below.
Before this, you may also file an online complaint to the Redbus assistant (live chat support). Let us find out about this in a detailed way.
---
File an Online Complaint
The easiest and fastest way to file a complaint is online mode. So, Redbus has its own self-care to provide help and customer support 24×7. You may lodge an online complaint regarding the issues of new bus/train booking, technical problems, referrals/offers, redBus wallet, or other disputed matters.
Have you booked any services of RedBus Tickets, Train Tickets (redRail), or Cabs & Bus Hire (ryde)? Are you facing problems with these services? Yes! Then you should lodge an online complaint to Redbus Help (Customer Support) as soon as possible).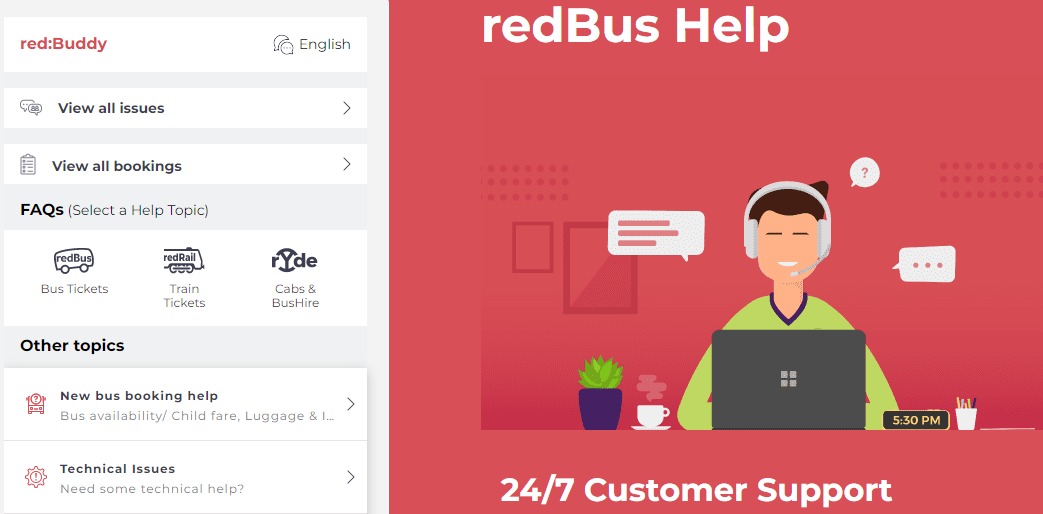 Provide the Following Details to the Support Team:
Booked Ticket Number (Booking Id)
Nature of the disputed issue
A short description of the complaint
Relevant documents like invoices or any evidence like images/videos of bus/cab (if asked)
*Alert – Don't share any financial details with customer care agents even after being asked by trusted sources. Be aware and protect yourself from any scam or fraud.
Must log in to your account on Redbus via an online portal or mobile app to initiate an online conversation with a customer care executive or the online live assistant (24×7).
File an Online Complaint to Redbus:
Have you successfully lodged an online complaint? Noted down the token/reference number? As an aware person, you might have saved the reference number of the registered complaint.
As earlier mentioned, it can be used to track and escalate unresolved or unsatisfactory redressal provided by the online RedBus care and customer support. Let us know the contact details, required information, and the right procedure of tier 2 to escalate the disputed matter to the Grievance Officer.
---
Grievance Officer, RedBus
The Grievance Redressal Officer is the authorized official person who resolves disputes or complaints that are not resolved within 30 days by the customer care teams of RedBus or if any customer is not satisfied with the final resolution.
Are you not satisfied? Have issues not been resolved within 30 days? In these situations, escalate the complaint to the appointed Grievance Redressal Officer as mentioned earlier. For this, you may e-mail, write a grievance letter, or lodge an online grievance via the portal or mobile app.
Required Information to Escalate the Disputed Matter:
Reference/Token number of previously registered complaint
Redbus Ticket Number (Booking id or confirmation number)
The subject of the complaint
A brief description of the unresolved issue or reason for dissatisfaction
Copies of relevant evidence like invoices, images, videos, etc. (if asked by the officials)
Prefer e-mail, and online grievance portal to escalate the disputed consumer cases/issues for your convenience and without any charges. You can also track the status.
Contact Details to Lodge a Grievance to Authorized Officials of RedBus:
| | |
| --- | --- |
| Grievance Officer, RedBus | Lodge an Online Grievance |
| E-mail | [email protected] |
| Address | Grievance Officer, RedBus, Ibibo Group Pvt Ltd., 3rd Floor, Tower B1, Golden Enclave, HAL Old Airport Road, Murgesh Pallya, Bengaluru, Karnataka – 560017. |
Note – Disputes not resolved? If you are disappointed by the final decision of the Grievance Officer or not resolved within the given time limit then obviously you have the right to approach the National Consumer Authority (consumer rights protection form) as discussed earlier.
---
National Consumer Protection Authority
Each nation has its own autonomous body to protect the rights of consumers and also takes action against the unfair and unethical business practices conducted by the companies or sellers. These bodies are called National Consumer Protection Authorities. Every country has a different regional name for these authorities. You may contact your local body (consumer forum).
If the matter is very serious and wants to get compensation for the monetary loss or paid services from RedBus, certainly you should file a petition to the National Consumer Forum. Before filing a case, ensure the following required basic information:
Ticket receipt/bill, payment, or booking details
Details of previously submitted complaints and the response of RedBus
Other relevant documents and proofs like images/videos, or any supporting evidence.
In India, seek help or file an online complaint to the National Consumer Helpline (NCH), Ministry of Consumer Affairs. To file an online petition visit E-DAAKHIL of the National Consumer Disputes Redressal Commission.
For All other countries, visit National Consumer Authorities to report consumer disputes within the local body of your country. Must provide all the relevant and supporting documents as mentioned in the list above along with other details asked by the consumer commissions to get the verdict in your favour.
---
Frequently Asked Questions about RedBus
Q. What is the customer care number of RedBus India?
A. Customers may call +919945600000 to report issues regarding booking to RedBus Customer Support Service and for disputes of cancellation call +918030916640 or e-mail [email protected].
Q. Where can I lodge a complaint if my issues are not resolved by RedBus Care?
A. First, escalate the complaint to the appointed Grievance Officer, RedBus by e-mail at [email protected] or the online grievance portal. If not satisfied with the decision, you may file a petition to the National Consumer Protection Forum the nation. In India, contact the National Consumer Helpline.
---
Reference