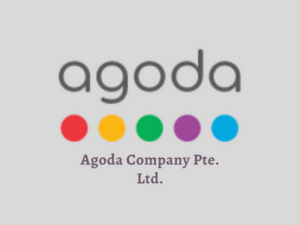 Agoda is an online travel & accommodation (hotels, villas, homes, etc.) booking platform owned by Agoda Company Pte. Ltd., which is a subsidiary of Booking Holdings Inc. It is one of the largest online travel-tech companies in Asia and worldwide.
The products & online services include affordable deals on bookings of hotels, accommodations, homes, resorts or other hospitality properties, and flights. Millions of customers access the e-services of Agoda, but many of them sometimes face issues with these services.
Notice - Be alert! Don't disclose the financial or banking details and

don't share OTP

with any customer care executive. Protect yourself from

Frauds and Scams

. Report to

Cyber Crime Bureau

or Call 1930 as soon as possible to protect your earnings and others.
In this situation, file a complaint to the customer care support team or e-mail your concerns. Customers can follow three stages to resolve consumer disputes about Agoda services. Stages 2 and 3 of the grievance system may vary country-wise but major nations follow this.
Stage 1, the ways to get redressal of the problems regarding booking cancellation, special requests, refund of payments, etc. are online chat support and customer helpline numbers of Agoda for the concerns of travel flight bookings & insurances.
Major Issues to be Resolved:
Bookings & Check-In: Issues regarding the online booking of hotels, accommodations, travel flights, rooms, resorts, or hospitality properties. Problems with check-in & check-out, quality of services, etc.
Payment, Cancellation & Refund: Request to cancel the booking, issues of refund/payment, problems regarding flight cancellation, non-payment of refund, or other related concerns.
Charges: Report higher service charges for hotels & listed properties of Agoda, unfair charges or fees, charges regarding flight booking, or other service charges.
COVID-19: Any complaint related to COVID-19 guidelines or required customer support.
Price Freeze: Refunds for the booked Price Freeze deposits, cancellations, or other matters related to prize freeze deals of Agoda.
Travel Insurance: Issues related to travel insurance claims for flights booked on Agoda, matters of denial of payment against the claim, or other concerns regarding insurance.
Special Requests: Problems related to any special request for specific services, early check-out or extension of booking, or other types of special requests for booking of hotels or flights.
Others: Any complaints about the premium or specific tourist/travel packages, certain conditions & disputes regarding baggage allowance, or other issues of hospitality & travel services.
In stage 2, if not satisfied with the redressal of stage 1, escalate the complaint to the appointed Grievance or Compliance Officer of Agoda. Yet not satisfied? In stage 3, file a petition to the national consumer disputes form/agency of your country with relevant proof.
Let us try to find out the whole process in detail. To redress consumer disputes against travel products and services, you should know the grievance authorities to protect consumer rights.
---
How to File a Complaint to Agoda?
Have any complaints related to booking of hotels, accommodation, flights, or unredressed issues of payment/cancellation of the Agoda travels services? You can get quick help from the customer support team or may contact the booked properties, or Agoda customer care.
Need a faster resolution? Follow the 3-tier system for redressal of the complaints related to all the issues as mentioned like booking & check-in/out, payment (charges, cancellation, refund), flight booking, insurance, etc. You may also check the consumer charter/handbook of Agoda to know the time limit for the execution of specific services & redressal of consumer disputes.
Complaint Registration Fee & Redressal Time Limit:
| | |
| --- | --- |
| Registration Fee | No Charges (₹0) |
| Redressal Time Limit | Up to 30 days (It may vary, read Agoda policy) |
| Payment Refund | Up to 30 Business Days |
Tier 1: First, initiate the consumer dispute by complaining to the customer care team of Agoda. For this, you can file a complaint to the support team by calling on the helpline numbers (especially for travel flights) or e-mailing your problems.
Customers can also lodge an online complaint on the self-help chat service or raise a concern to the Agoda customer care executive with the booking confirmation number. Hence the dispute can be settled.
Tier 2: Not satisfied with tier 1? Escalate this complaint to the designated Grievance/ Compliance Officer, Agoda of your respective country. You may e-mail your concerns to the authorities with relevant information about the case.
Tier 3: Not satisfied by the authorities of tier 2? File a complaint to the National Consumer Disputes Form or Trade Protection Authority for Consumers of your concerned country. Provide invoice and evidence of the disputed product or service of Agoda.
Now, let us know the official helpline numbers (for flights), customer support e-mail and self-help services of Agoda to redress the grievances of the consumers.
May Be Helpful: File a Complaint to Booking.com
---
Agoda Flight Helpline Number
Does the problem pertain to flight booking & travel insurance? Don't wait, call the customer care or helpline number of the Agoda support team to file the complaint about this specific issue. Remember, only use the complaint number of your country otherwise international call charges may apply as fixed by your telecom operator.
Provide the Following Information About Flight Booking to Customer Support:
Agoda Booking ID (Confirmation Number)
Last 4 Digits of your Credit Card (used for booking)
*Be Aware – Don't share any sensitive financial information with any person, even the customer care teams of Agoda.
Call the Agoda Customer Helpline Number for Flights Booking & Travel Insurance:
Have you registered your complaint? After successful submission, ask for the ticket/reference number of this grievance to track the status and keep it safe as evidence unless it is resolved.
As you know, if not satisfied with the final resolution, escalate this disputed matter to the Grievance Officer, Agoda for further inquiry. Meanwhile, you may get help from self-help services (chat) of the support team to clarify your doubts or queries.
---
File an Online Complaint
Do you want to complain conveniently about accommodation bookings? The self-help service of Agoda can be a good option. Consumers can file an online complaint about the online bookings of hotels, hospitalities, flights, listed properties, or other cancellation/ refund issues to the support team. You may also e-mail your grievances with relevant details regarding the disputes.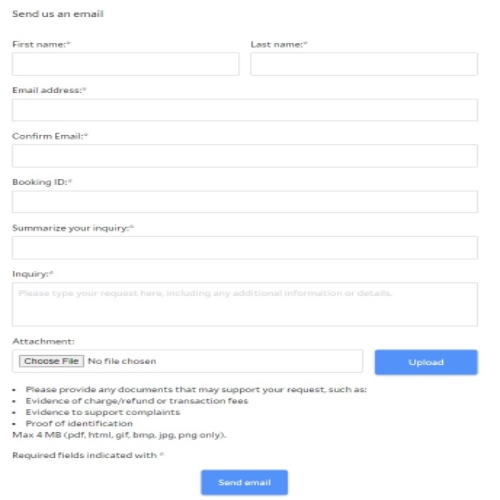 Provide the following information:
Confirmation Number (Booking ID)
A copy of the Invoice (if asked)
Short summary of problem/dispute.
Any relevant image, video, or documents (if any)
Ticket/reference number of complaint (if already submitted)
Lodge an Online Complaint to Agoda about Flights & Accommodation:
Resolved issue? If not, note down the reference/ticket number of the submitted complaint and escalate this disputed matter to the designated Grievance Officer of Agoda.
---
Grievance Officer
Most countries have issued self-regulatory guidelines to appoint a Compliance/Grievance Officer to redress unsatisfactory or disputed consumer complaints. Agoda has also appointed officers in these countries.
If your complaints are not resolved within the specified timeline or dissatisfied with the resolution of the settlement, escalate this disputed grievance to the designated authority.
You may seek the e-mail and contact details from Agoda customer service that can use to submit the disputed matter with appropriate and relevant documents like invoice, image/video, or other proof.
For More details, read the Country Specific Terms of Agoda and know the given contact details of compliance offices of different countries for specific consumer disputes.
Address: Agoda Company Pte. Ltd., 30 Cecil Street, Prudential Tower #19-08, Singapore 049712.
Denied or not satisfied with the final resolution offered by Grievance Officer? In this condition, you have the right to approach the National Consumer Disputes Forum to claim compensation against the disputed matter of Agoda products and services.
---
Consumer Forums
The National Consumer Protection Forum are the appellate authority or organization of the nation to protect consumer rights and settle disputes over products and services consumed by the person after paying a specific amount to the seller.
The crux of this definition is, you can file a petition/case to the National Consumer Disputes Forum of your country against the unsatisfactory redressal of the submitted complaint to the Grievance Officer or Customer support of Agoda. You can claim the amount paid for the booking of Agoda services like hotels, flights, etc.
Provide the Following Mandatory Information to Consumer Protection Forum:
Details of booking like Booking ID, confirmation number, or invoice receipt.
Name and address of the seller – Agoda Company Pte. Ltd.
The description of the disputed matter, also mention claimed amount.
Submit to the authorities of your nation by visiting the nearest office of the consumer forum or send by post/courier. Consumers may also file an online complaint on the portals of the forum (if available).
National Consumer Protection Forums of Some Countries:
Provide the most relevant documents and evidence to represent your case in your favour. Also, attach the bills or invoices of booked services on Agoda and other information regarding the refund, cancellation, or denial of refund for the deposited amount. You may submit any document or proof that favours the case and helps to settle the claim.
---
Frequently Asked Questions about Agoda?
Q. What is the customer care number of Agoda?
A. As per our research, Agoda has online provided the customer care number for complaints related to flight booking services. If you have any problems regarding the accommodation, hospitality, or car rental services, contact Agoda via the customer service chatbot or support team on chat assistant.
Q. Where can I file a complaint if my disputes are not resolved by Agoda Customer Support?
A. You may lodge a complaint to the National Consumer Protection Authorities (Forum) of your country with some supporting documents & invoices of disputed products or services of Agoda.
---
Reference