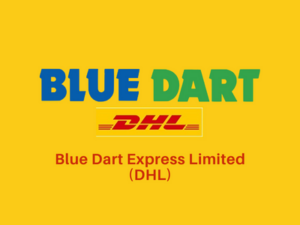 Blue Dart Express Limited is a transportation (cargo & freight) and distribution company that offers delivery and pickup of consignments, couriers, and logistic goods in worldwide locations (domestically as well as internationally). It is one of South Asia's premier express and is a part of Deutsche Post DHL Group's DHL.
Currently, Blue Dart (BDE) is operating in more than 220 countries with major logistics, parcel, and courier distribution services including air express, freight forwarding, supply chain solutions, online booking of consignments, e-commerce solutions, B2B/B2C customer clearance, etc. It has a vast network backed by high e-logistics technology to deliver any parcel or goods at a low cost and in less time.
Notice - Be alert! Don't share the financial or banking details and

don't share OTP

to customer care executive. Protect yourself from

Frauds and Scams

. Report to

Cyber Crime Bureau

or Call 1930 as soon as possible to protect your earnings and others.
Have any complaints regarding the delivery of parcels, couriers, freight, or other services? Yes! Blue Dart Express has centralized customer service in India. You can file a complaint in 3 ways in level 1 and if not satisfied, escalate it in level 2. The support team ensures that your problems will be resolved within the given time limit.
Do you want to complain? Obviously yes! To initiate a grievance, first, you may call the toll-free Blue Dart customer care number, e-mail the concerns, or lodge an online complaint via an online portal or BDE mobile app. Not resolved or dissatisfied? Escalate this complaint to the higher authorized officials, for example – The customer Relation Manager.
Issues That Can Be Resolved:
Delivery: problems pertaining to delivery of logistics, parcels, couriers, shipment, or other goods (freights), online booking or cancellation of BDE delivery, delay in delivery, pickup or other issues.  Report the concerns related to defective or partial delivery, lost or damaged parcel/logistic goods, etc.
Logistics: Issues regarding delayed or partial transportation of freight consignment, delayed logistics delivery, damaged or lost goods, or other problems of logistics services offered by Blue Dart.
Payment: Complaints regarding payment refund of deposits, cancellation of parcel/freight booking, delayed claims, issues regarding insurance protection for goods or logistics, compensation amount, etc.
Products: Issues pertaining to specific premium products or membership plans of Blue Dart Express for transportation, parcel shipment, freight services, international/domestic transportation, etc.
Services: Premium BDE services like insurance protection for parcels, freight consignments, and delivery of specific goods and related concerns.
Others: Any complaints about the products and services offered or delivered by Blue Dart Express but not listed above.
No action has been taken or dissatisfied with the final decision of Blue Dart? The last option is the National Consumer Authority of the country. In India, You may complain to the National Consumer Helpline (NCH) and further to the Consumer Commission/Court (district/state/national).
Let us find out all the information regarding the helplines, grievance redressal mechanisms of BDE, and procedural details of consumer authority in India.
---
How to file a complaint to Blue Dart Express?
Are you facing problems with the services of Blue Dart? If yes, first initiate a complaint via the centralized and integrated customer support services of Blue Dart Express in India. For this, collect some important information (tracking Id) related to the particular delivery, logistics, or parcel/courier services against which you want to raise a concern.
BDE Complaint Registration Fee and Redressal Time Limit:
| | |
| --- | --- |
| Registration Fee | No Charges (₹0) |
| Redressal Time Limit | 30 days (depending on the issue, read BDE policy) |
| Claims Period | Submit within 30 days |
Now, use the 2 tier mechanism to get faster redressal of the issues pertaining to delivery, transportation, or logistics (freight). If you are not satisfied with the tier 1 support team, escalate to the tier 2 authorities.
In tier 1, Customers can report the issues in 3 ways. First, call the Blue Dart customer helpline number to resolve the query or specific problem. Second, e-mail the issue or file an online complaint (chat with the online support executive or mobile app) to get faster redressal. If you desire, may also write a complaint letter or visit the nearest office branch of BDE in India.
Not satisfied or problems not resolved? This can happen with any customer. In this particular situation (tier 2), request customer support for the escalation of unresolved or unsatisfactory complaints to the higher nodal officers like the Customer Relationship Manager of the regional BDE head office.
If not satisfied with the final decision of Blue Dart, what should do? Obviously, you should approach the consumer protection authorities to claim the amount or demand compensation for any monetary loss.
---
Blue Dart Customer Care Number
Are you ready to complain? You should! The toll-free customer care number is available 24×7 to resolve the disputes and pertaining issues of the customers. You may call the Blue Dart helpline number to contact the customer support service and submit concerns regarding the delivery (parcel/courier), freight, shipment, or transportation.
The issues can include international or domestic delivery or premium services like air express, Dart Plus, mail Dart, Express Pallet, Interline, etc. So, don't wait, call the support team or e-mail to get a faster resolution without any extra delay. If you desire, visit the nearest Blue Dart Branch office to submit a written complaint.
Provide the Following Details to BDE Support:
Tracking ID (Waybill number or Ref No)
Nature of complaint
A short description of the problem or pertaining issue
Relevant details like invoice, image/video, etc. (if asked – only provide the required details)
Alert:
Do not share

any financial or sensitive personal information like banking details, payment ids, OTP, or ID card details.

Protect

yourself from scammers, cybercrime activities, or fraud. Always report to cyber police as soon as possible.
File a Complaint by Calling Blue Dart Customer Service Number:
Tips – Not resolved the issue or dissatisfied with customer support? Don'y worry! request to escalate the disputed matter to the customer relationship manager or the next authorized nodal officer. Please note, online complaint submission details are provided after this section. Also, submit a written grievance letter to regional offices as mentioned below.
Regional Branch Offices
Some 24-hour counters in regional Blue Dart branches are available in metro cities Mumbai, Delhi, and Hyderabad. You may seek help or access available delivery services of the company.
Submit a written application to claim the amount within 30 days of receiving the delivery of the parcel/courier or logistics. Needs to be noticed, applications/letters related to complaints or claims must be submitted to the regional (nearest) office of Blue Dart Express. The relevant information and evidence like invoice, image/video of parcel/shipment must be attached with the form.
24 Hours Counter Offices of Blue Dart:
1. Mumbai (Airport Vile Parle)
Address
Blue Dart Express Ltd, Mumbai Branch – 24×7 Counter,
Hotel Avion, Opp. Domestic A1 Terminal, Nehru Road, Vile Parle (East) – 400057.
Pin Location
Mumbai – 400057.
2. Delhi (Delhi Cantt.)
Address
Blue Dart Express Ltd, Delhi Branch – 24×7 Counter,
IV-1/48, Gopinath Bazaar, Delhi Cantonment – 110010.
Pin Location
New Delhi – 110010.
3. Hyderabad
Address
Blue Dart Express Ltd, Hyderabad Branch – 24×7 Counter,
Ground Floor, UMA Hyderabad House, Raj Bhavan Road – 500041.
Pin Location
Hyderabad – 500041.
Regional Branch Offices of Blue Dart Express in India:
1. Ahmedabad
Address
Blue Dart Express Ltd, Ahmedabad Branch
Shalimar Co-Op HSG SOC, Near Embassy Market, Off Ashram Road, Ahmedabad-380008, Gujarat.
Fax No.
0796586195
E-mail
customerservice@bluedart.com
2. Bangalore
3. Kolkata
Address
Blue Dart Express Ltd, Kolkata Branch
Kanak Building, 3rd Floor, Jawaharlal Nehru Road (Old Chowringee Road), Kolkata – 700071, West Bengal.
Fax No.
03322881894
E-mail
customerservice@bluedart.com
4. Chennai
5. Coimbatore
6. Delhi
Address
Blue Dart Express Ltd, Delhi Branch
4th Floor, Elegance Tower, Non-Hierarchical Commercial Centre, Plot No. 8, Jasola District Centre, New Delhi – 110076, NCT of Delhi.
Fax No.
01140575281
E-mail
customerservice@bluedart.com
7. Hyderabad
Address
Blue Dart Express Ltd, Hyderabad Branch
H. No. 8-2-248/1/7/71 & 71A, Plot No. 71, Sarada Chambers, Nagarjuna Hills, Hyderabad – 500082, Telangana.
Fax No.
04066323030
E-mail
customerservice@bluedart.com
8. Mumbai
First contact the nearest local office of Blue Dart, if not satisfied with the service or pertaining issues are not resolved then approach the regional branch of your state or location as specified above. If interested to lodge an online complaint, follow the instructions below.
---
File an Online Complaint
Want to lodge an online complaint? Certainly, you should. It is an easy and transparent way to raise a concern about the customer service of Blue Dart Express. You may file an online grievance via the online complaint form of the portal, logging in to the registered account, and mobile app.
For the help you seek or want to resolve any query, please provide relevant information in the online form or by e-mail. Also, you may approach the regional branches to verify the details and submit your disputed matters in written form.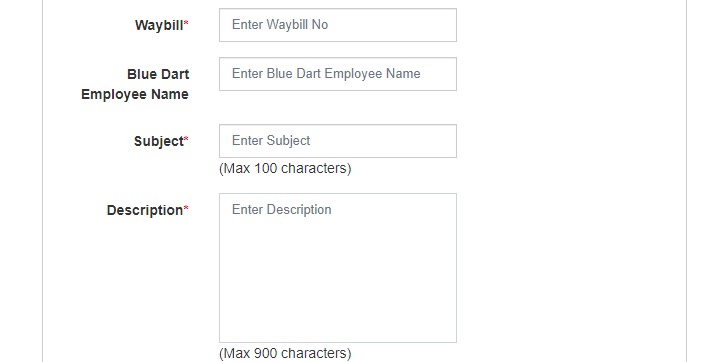 Must include the following information regarding issues with the delivery of the shipment, freight goods, and parcels:
Blue Dart Delivery Order ID
BDE Tracking Id (Waybill Number or Ref. No.)
The subject of the complaint
A short summary of the disputed matter with a list of evidence
Required relevant details like invoice, image/video of damaged/partially delivered shipment (optional).
Note –

Do not share

any personal or financial information.
Details to File an Online Complaint to Blue Dart Express Authorities:
Alternative Mediums:
Have you submitted the complaint? After this, note down the reference/ticket number to track the status. Also, use it for future purposes as proof. (If not resolved or dissatisfied with responses)
---
Grievance Officer
Have the issues not been resolved or not satisfied? As earlier mentioned, escalate the disputed matter or grievance to authorized higher officials like the Customer Relationship Manager of the regional branch office or Grievance Redressal Officer. For this, you may e-mail customerservice@bluedart.com or bdcs@bluedart.com to raise a concern with previous references of unresolved/unsatisfactory complaints.
Write a grievance letter to the Blue Dart Branch offices by mentioning tracking/order Id, and the reason for dissatisfaction or ask the clarification for not resolving the complaint. The details of the branches in India are mentioned above. You may also contact the 24×7 (24 hours) counters in Delhi, Mumbai, and Hyderabad.
Not satisfied with Blue Dart? Approach the National Consumer Forum in India or the respective country. See more below.
---
National Consumer Forums
The National Consumer Authorities are the apex bodies of the country to protect consumer rights and take legal action against the unfair & unethical business practices of the companies or any seller/business entity. You as a consumer may file a complaint to report the violation of consumer rights and can demand compensation for monetary loss or defective/low-quality services/products.
So, you have the option to approach the authorities in the condition of dissatisfaction with the final remedies of Blue Dart or unresolved disputed matters regarding the delivery of the shipment.
In India, first, initiate a call or file an online complaint to the National Consumer Helpline (NCH), Ministry of Consumer Affairs to contact the authorized executives. This will help you to resolve the dispute and also may seek help for further actions to protect your rights.
Not satisfied with the responses or redressal? Finally, you may file an online petition on E-DAAKHIL to the National/State/District Consumer Disputes Redressal Commission against the product & services of Blue Dart Express, India.
Further, you may seek help from a legal expert in your opinion.
---
Frequently Asked Questions about Blue Dart Express
Q. What is the customer care number of Blue Dart Express, India?
A. You may call the Blue Dart customer care numbers 18602331234, +912262601234, and +914466344600 to complain about the disputed matters or issues related to the delivery of the shipment, parcel/courier, or freight goods. Also, e-mail the support team at customerservice@bluedart.com to get faster redressal.
Q. Where can I complain if my problems are not resolved by the customer care of Blue Dart Express?
A. In these conditions, first ask the customer executives to escalate the disputed complaints to the higher authorized persons like the customer relationship manager or may visit the nearest regional branches of Blue Dart Express.
Q. What should I do, if not satisfied or no solutions have been provided by Blue Dart?
A. Certainly you should be aware of consumer rights. If it is breached, first complain to the National Consumer Helpline, Ministry of Consumer Affairs. Second,  file a petition to the Consumer Disputes Redressal Commission (consumer courts). For this, use the E-DAAKHIL portal and submit the case to the respective consumer commission (district/state/national).
---
Reference