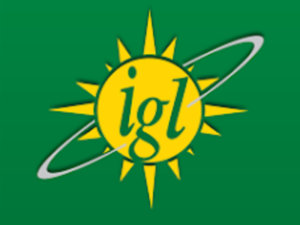 Indraprastha Gas Limited is a natural and LPG gas distribution company that is backed by GAIL (India) Ltd. and Bharat Petroleum Corporation Ltd. in the region of Delhi NCR. IGL provides services to domestic, transport, and commercial sectors.
IGL provides auto fuels (CNG & LNG) in these cities:
Notice - Be alert! Don't disclose the financial or banking details and

don't share OTP

with any customer care executive. Protect yourself from

Frauds and Scams

. Report to

Cyber Crime Bureau

or Call 1930 as soon as possible to protect your earnings and others.
Area of NCT of Delhi
Gauta, Budh Nagar
Ghaziabad
Hapur
Muzaffarnagar
Shamli
Meerut
Kanpur
Fatehpur
Hamirpur
Banda
Mahoba
Chitrakoot
Rewari
Gurugram
Karnal
Kaithal
Ajmer
Pali
Rajsamand
Indraprastha Gas serves in the transport sector with Compressed Natural Gas (CNG), domestic & commercial uses such as Piped Natural Gas (PNG), and R-NG supply for industrial usage or purpose.
Services of IGL are – PNG for domestic & households, CNG for CNG stations & vehicles, Industrial and Commercial PNG, and Vendor services. Many customers are using these services as a clean and environmentally effective energy source.
But many customers usually face issues and problems with the gas supply and services of IGL (Indraprastha Gas). The issues can be the quality of CNG & PNG, leakage, payment issues, delivery of the service, commercial and retail CNG as station-related complaints, and other types of complaints.
IGL has provided the customer care numbers and helplines of Indraprastha Gas Limited to register complaints and customers can also file complaints online on their official website or through a mobile application. All the information is provided in the sections below.
---
Grievance Redressal Time Limit and Fee:
Registration Fee: No Charges (0)
Grievance Redressal Time Limit: 7 to 30 working days
⇒ To know more, Click out: Citizen Charter of BPCL
If your complaint is not resolved or unsatisfied then you can approach the higher authorities and grievance calls of Indraprastha Gas.
---
Helplines for Indraprastha Gas Limited (IGL) to File Complaint
IGL (Indraprastha Gas Limited) takes care of all its customers. It has provided many helplines with toll-free customer care numbers, e-mails, and WhatsApp numbers. You can call for emergency leakages and other issues.
Customers can also use the portal or mobile app of the IGL to file an online complaint. You just need to fill out the online complaint form. Submit it and note down the reference numbers to track the status of the complaint.
Customer Care Numbers and Helplines of IGL (Indraprastha Gas) to File a Complaint:
IGL Emergency Customer Care and Helpline Numbers:
Note – If your complaint is not resolved or not satisfied with the final resolution of IGL then you may lodge an online grievance to CPGRAMS about the current issues.
Register an Online Complaint to IGL
Customers of IGL can use the online portal to register an online complaint. For their convenience, consumers can log in to the official portal. You just visit the link and fill out the online complaint form. Submit it and don't forget to note down the reference number to track the status.
You can raise your concerns about all the issues of the Indraprastha gas services in PNG, CNG, and other categories of products and their distributions & supply-related complaints.
Links to the IGL portal to Register an Online Complaint:
Alternative Options:
Note – If your complaint is unresolved then you have the option to lodge a grievance to DPG to get faster redressal of your issues.
---
Categories of Issues
PNG Domestic Services – Leakage, emergency help for fire, payment of bills, and other issues
Prepaid domestic customers – supply of CNG gas, payment and transaction issues, prepaid bill meter issues.
PNG domestic and industrial customers issues, postpaid and prepaid billing and meter issues.
CNG customer issues – Outlets, Hydro testing centres related, Current CNG/PNG prices, issues with IGL smart card, CNG retrofitment centre details.
Other complaints and issues with the services of IGL in the PNG & CNG category.
---
References