DHBVN: 1. Customer Care Numbers | 2. Lodge Online Complaint

Dakshin Haryana Bijli Vitran Nigam (DHBVN) is owned by the state government of Haryana. The Zones of Southern Haryana are covered by DHBVN for the distribution of electricity services. This area mostly depends on agriculture, most electricity consumption is used in this field and village areas.
Notice - Be alert! Don't disclose the financial or banking details and

don't share OTP

with any customer care executive. Protect yourself from

Frauds and Scams

. Report to

Cyber Crime Bureau

or Call 1930 as soon as possible to protect your earnings and others.
Many villages face frequent electricity power supply outages. They don't get 22 to 24 hours of continuous supply but merely get the electricity for about 16 to 18 hours a day.
In the summer, many customers face many power cuts in rural as well as urban areas. f you are from these areas and don't know the process to lodge an electricity complaint to DHBVN or a nearby sub-station.
Some reasons to register complaints to DHBVN on customer care helpline numbers and online portal by complaint form:
Issues that you must approach to register a complaint:
Electricity Supply Outage/Power off
Electricity bill related issues/rebate/arrear in the bill
Transformer failure, load enhancement
New electricity connection
Other online services issues, streetlight
Regional Circles of DHBVN South Haryana to Get Electricity Services, Lodge Complaint:
Bhiwani
Faridabad
Fatehabad
Gurugram – I, II
Hisar
Jind
Narnaul
Palwal
Rewari
Sirsa
Get all the information on the toll-free helplines numbers of DHBVN to lodge your complaint from the below listed tables. You can click on the customer care numbers and then call and talk to the representative to get a resolution. You can register your complaint by telling your issue to the customer care assistant of DHBVN.
Want to lodge an online electricity complaint? Don't worry, we have provided all the links to the DHBVN portal in the table that is available below. Visit and fill out the details and submit your complaint.
Using the complaint reference number, you can lodge a grievance against your last complaint to get a transparent redressal. Please visit the Haryana Electricity Regulatory Commission portal and download the form to lodge your grievance.
Trust the Complaint Hub, helplines are provided to lodge complaints and all details are verified.
How to Register Electricity Complaints, or Fill Out Online Application form for New Electricity Connection of Dakshin Haryana Bijli Vitran Nigam (DHBVN)?
The process to register electricity complaints to DHBVN:
Follow this procedure:
Method 1: Lodge complaint by calling on customer care helpline numbers of DHBVN:
Click on the Customer care numbers from the below table (highlighted in red)
Directly call on these numbers and register your complaint
Click on the WhatsApp numbers from the below table and message your issue to the DHBVN office
Wait for a response and tell your issue or complaints
Please get the reference number to track the status of your complaint
Method 2: Register Online Complaint on the portal of DHBVN: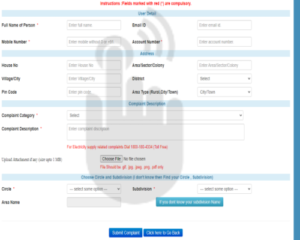 Click the link to the online complaint form below
Fill in the following details of the complaint form of DHBVN:

Fill in the Personal details – names, emails
Enter the account number (from your bill)
Provide address
Select a category of your complaint – Supply, meter, bill, other services (As mentioned)
Write the Description of your complaint with the required information
Upload a supportive document against the complaint (Optional)
Select the Circle, sub-division, and enter the area name (Don't know circle or division, click on the search)
In the final step, click on the submit button and note the complaint number to track the status
The Procedure to Fill Out the Online Application Form for New Electricity Connection of DHBVN:
Step1:
Visit below in the table of online services
Click on the new electricity connection of DHBVN- Apply now link
Step 2: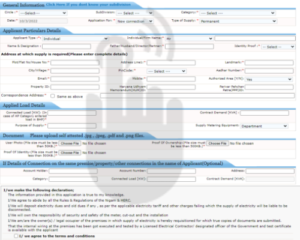 Fill out the new connection application form, enter the following information:

Fill in the General information:

Select – Circle, Division of your area
Select the category of the connection ( Domestic, other)
Application type (New Connection or other options)
Type of supply – Permanent/temporary

Fill in the Applicant information:

Applicant Type – Individual or other
Name, other personal information
Choose an identity proof – Passport, Pan card, Aadhar Card, Driving Licence, Ration Card, Electoral ID Card (Voter ID), PPP ID, Photo Identity card issued by government
Address where electricity supply is required – Enter Aadhar Number

Enter the required load details – (1. in KW, 2. Purpose of Supply)
Upload required documents:

Passport Size Photo (50KB)
Proof of ownership (Property) (500KB)
Proof of Identity ( Personal ID card) (500KB)

Tick on the terms and conditions (read the declaration carefully)
Enter the captcha and click on the apply button

Note down the application reference number and print out your application form
Use the reference number to track your application on the website
---
Electricity Complaint Redressal Time: Immediate (24×7) or May take 7 to 60 days (depends on the issue)
Grievance Redressal Fee: ₹0/- (No Charges)
---
DHBVN South Haryana Electricity Customer Care Helpline Numbers to Raise Complaints
Call DHBVN south Haryana on toll-free customer care Helpline Numbers to register your complaints related to electricity services, bills, or other issues:
Trusted Source – 1. DHBVN
Links to Register Online complaints, Apply for New Electricity connections, and other Services of DHBVN
Loge online complaint or apply for an online application for a new electricity connection of DHBVN, and track your requests and complaints from the below links.
Trusted Source – 1. DHBVN | 2. Urja Mitra | 3. HERC
---
DHBVN (Dakshin Haryana) Electricity Complaint Categories and Types:
Complaint about electricity Issues of:
DHBVN New Electricity Connection and Bill Related Complaints:
Fictitious arrear, Wrong Bill, Payment paid but the amount is not updated
New connection related complaints – Issues under Saubhagya Scheme, Applied but not sanction the new connection, the new meter is not provided, other issues
DHBVN Electricity Transformer and Power Supply Related Complaint:
Damaged, burnt, or sparking wire in the transformer, overloading of voltage, power failure, sudden blast, or fire in the transformer.
Power Supply Disruptions – Electricity supply outage in your zone, low or high voltage supply in 11KV faults, sudden wire issue in 33KV loading current fault, LT fault
Electricity poles are not installed or fell on the ground, wires are broken, streetlight power outage
Electricity Power theft report to the authority or emergency report about accidents due to wire contact, or broken wire is fell on the ground, fire in agriculture field due to electricity
DHBVN Industrial or Domestic Smart Meter Defects:
Replacement, renewal of electricity meter, Error in Accuracy of readings, upgrade request of meter to get load enhancement
Smart meter defects – failure of power due to meter sparks, no power, issue of irregular electricity supply, button issue, terminal, input/output wire defects.
Glass, display, the seal of meter is broken or not in good condition
Other smart meter issues under DHBVN in Southern Haryana.